There are 3.2m, 4, 5m, 6m different length Hydraulic CNC Press Brake of 300T bending capacity. Shorter bender is suitable for thick plate, longer machine will be for long plate. The bending thickness can be 6mm ~14mm according to bending workpiece length. The electric-hydraulic synrho design is improved technology in bigger capacity sheet metal bending machine. CNC controled Y1, Y2, working table automatic crowning can making sheet bending more accurate. multi-axis CNC controled back gauge will big parts operation more easy. this type bending machine very common in truck beam forming industry.
500T CNC hydraulic bending press brake is heavy duty design for big parts fabrication. In china, many sheet metal dealer use it for initial sheet profile bending for customers. This capacity hydraulic bending machine is also common for truck body factory. Workpiece length, thickness and accuracy need modern heavy machine to be produced. for big parts, we also can supply motorised or CNC controled front/rear feeding system. it will easily asist operator to handle big size steel plate. For mine stone bucket production, Hardox plate bending also can use our heavy duty CNC hydraulic press brake machine.
We developed biggest Synchronised CNC Hydraulic Press Brake machine 3000T machine in 2011. The machine can bend up to 50mm thickness plate in to big column for airport and other public infrastructure steel structure buildings. All our CNC type hydraulic bending press also can be linked together to work as tandem press brake to bend longer workpiece. Tandem CNC press brake can be 2units more working together, also can work separately. Such big machines had been sold to china big seaport machine companies, mine equipements enterprise. With special designed hydraulic press brake tooling, the machine can bend various material from mild steel, structure steel to Hardox, weldox high level sheet metal.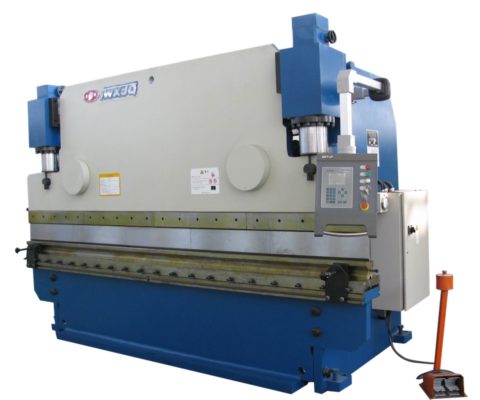 Up to 12mm mild steel plate or thinner structure steel will need CNC Hydraulic Sheet Metal Brake 250T. The machine is C-frame design, high grade torsion bar - mechanical synchronised structure. Wall frame, working table and ram are made from high quality steel plate. Welded main structure is stress elimirated, completely machined on machining center. All related dimension and install accurate is guarranted. Welded structure back gauge has strong frame, which will make long machine life and stable accuracy. Press brake can be equped with punch, multi-V bottom die. All the design can be customized according to actual job.
Customers can use CNC Tandem Hydraulic Press Brake 1000T for high mast pole, power transmistion pole, electric tower, shipyard. We already exported 12m, 13m tandem bending press to Chile, Argentina, Bahrain, India and many other countries. The machine is big, not only need design and production experience. WE can supply full technical support, including installation, training, 24hrs online service. so when we looking for buying such big machine, we'd better check manufacture ability also. Machine's hydraulic system is from BOSCH rexroth, pump is NACHI japan, CNC controller is Delem Holland, optic scalers are from germany.
The machine is really big Hydraulic Tandem Sheet Bender CNC 3000T machine's wall thickness is 200mm. Machine weight is up to 700T, Huge and heavy duty machine. It is our biggest machine produced for one chinese big company, who is producing sea port crane parts. Max bending thickness is up to 50mm. to make so big thickness tube, we shall us prebending machine to form the plate edge before press brake bending. then we shall use submerged welding machine to do both side welding to finish the tube. the machine has 4 units 55kw electric main motors for each press brake hydraulic system. machine body and bending system is really powerful.
Long plate like 3m or 2.5m thin plate is difficult to hold by people. CNC Guillotine Shear Machine with front CNC feeding will be the selection. The plate will be hold by pneumatic clamps and move over rolling-ball table. The shearing machine can be equiped with swing beam type or guillotine type. there is no back gauge. CNC controller control feeding positioning from front. rear side can be with plate collection carriage or table as customer self design. Guillotine shear's cutting angle is adjustable from 0.5~2 degree. small angle is suitable for thin plate cutting, less edge twist.
For 6m long plate cutting, we normally suggest CNC Hydraulic Guillotine Shear. The cutting angle is adjustable. With CNC controller, machine will be easy operate. Machine is with front, rear protection fence to avoid working risk. Working table is with rolling ball to reduce plate move friction. Hydraulic system and electric system are developed with world famous components. High chrome shear blades, special cutting throat depth, more axis control, special long stroke back gauge is aviable as options. We had exported machines to worldwide. you are welcome to visit our company or your local our customers.
---