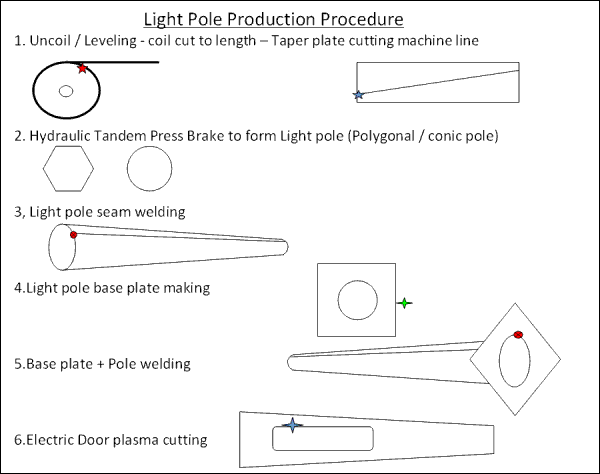 Light Pole: We are talking about poles along the street/ road for lighting. It is different from poles for art garden poles or high mast for public square.  With city expansion and road extended to everywhere, light pole industry is developing world widely and growing still. The characters of the pole is MASS PRODUCTION. so that the market competing is much. all manufactures looking for way to reduce production cost and produce as more as possible. our equipments were designed according the market requirements and condition. JINQIU made tandem CNC hydraulic press brake has big market percentage.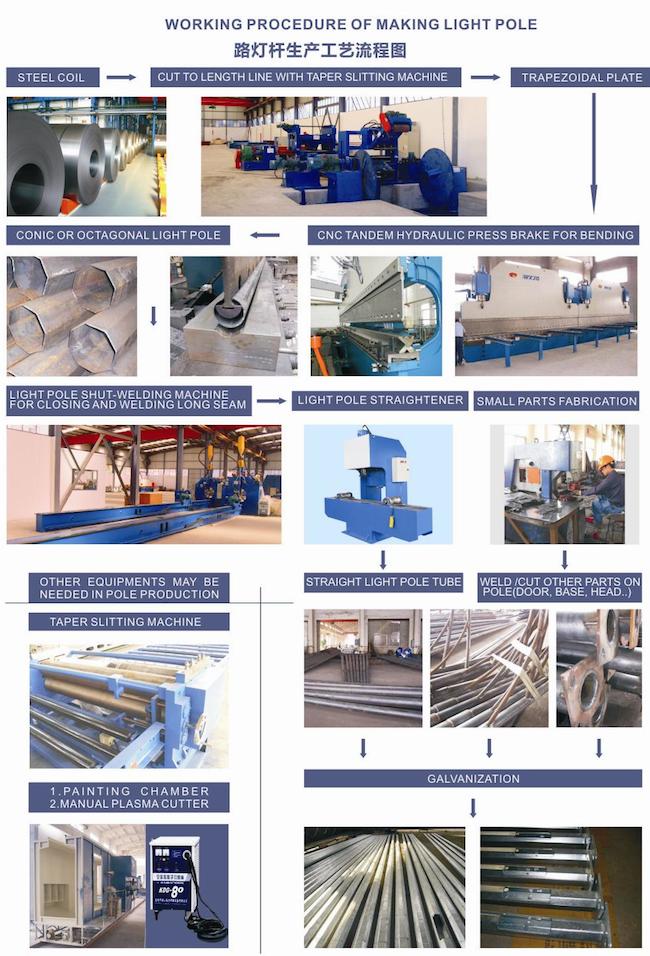 Light Pole Cut to length Line:
To reduce Light pole production cost, we shall start from hot roll steel coil material. Most countries are using mild steel plate for lighting pole production. while USA is using Q345, structure steel plate. so when we choose equipments, we shall confirm target material.
Normally the pole plate thickness, height, bottom /top diameter, cross section (conic or octagonal) were designed according to local weather condition, like temperature , wind speed, max wind speed and so on.
with the pole size info, we can consider light pole raw plate size. It is related with our line capacity. following parameters are normal for most countries.

Light pole cut to length line consist:
Steel coil loading dolly car
Hydraulic double-head umbrella type decoiler
Hydraulic guiding-pressing, shovel-head, pinch and feeding device
Middle rolling way worktable
Main plate leveling unit
hydraulic Plate shearing machine
Output working table
electric controller and hydraulic station;
Light Pole  Taper plate Slitting machine
The light pole plate slitting machine is base on the rolling shearing principle.
There are two precess step on the machine: Scrap edge cutting and taper plate cutting;
First step is to cut the scrap edge of the hot rolled steel to get the exact width and good edge which is good for light pole seam welding process.
There is a dolly in the front of the slitting unit. it is for control the straight cutting.
Second step is to cutting the light pole taper steel and get one side big one side small width steel plate.
There is a dolly in the front of the slitting unit. it is for control the taper cutting degree. Through changing the base position on dolly to change the taper degree.

TANDEM CNC Hydraulic Press Brake
Electric-hydraulic synchronised CNC Hydraulic Tandem press brake can make any length pole;
the working principle is perfect improved to suitable for conic or polygonal pole;
Standard machines are with Y1, Y2, Y3, Y4 control; can be with motorised back gauge to work separately;
Tandem Press brake is equipped with standard punch and multi-V die; For conic pole forming, we shall use conic forming tool;

Light pole shut-welding macine
it is suitable for one piece type polygonal and circle taper light pole. it is automatic welding line, the dolly with speed adjustable motor can pull the light pole from small end to big end, The hydraulic cylinder through mechanical chain, worm wheel push the clamping wheel to close the pole and do welding at same time.

LIGHT POLE STRAIGHTENING MACHINE
The light pole after seam welding, galvanisation, can be curved because of stress unbalance. sometime customer call it banana curve. It is normal during light pole production. We shall use light pole straightening machine to make pole perfect before delivery or next process.

CNC LIGHT POLE ELECTRIC DOOR CUTTING MACHINE
The machine is computer controlled automatic light pole electric door cutting. It has advantage of high cutting speed, accurate pole door cutting, cutting torch automatically follow taper light pole. The pole shape can be conic, octagonal, or polygonal. The machine reduced man labor and people skill requirements.
Max pole electric door length: 2500mm
Light pole diameter: 60~300mm
Plasma source: Hypertherm Powermax 65
Main motor: servo motor 1.5kw
CNC system: ADTECH HC4300, 2 axis control
CONICAL POLE BASE PLATE WELDING MACHINE
It is suitable for conical or round pole's base plate welding process.Also, It is suitable for round bar, round pipe to do girth welding. According the pole or round bar's size to set the time for one turn rotation, push the button, the round bar will start to rotate, at same time, the welding also will start. When one turn reached , the rotation and welding will stop automatically.
Light pole base end diameter: 60~300mm
Min thickness of Light pole: 2.5mm
welder power: KN350