SVG V grooving machine is standard 2-axis controlled, vertical type V cutting machine, designed according sheet metal small corner bending radius requirements of decoration industry, like show case, show room, and elevator's sheet metal. The machine is suitable for thin mild steel, stainless steel plate and other material metal sheet.
1. Axis definition:
Z – axis, V cutting depth control; CNC controlled with by servo motor ball screw drive; high V grooving accuracy 0.03mm;
Y – axis, V slots position control; the pneumatic clamps will hold the sheet metal to move forward to program V cutting position. The back gauge is CNC controlled with servo motor and long stroke double thread ball screw drive; positioning accuracy 0.05mm;
X – axis, V grooving length; complete width of plate; X-axis is driven by AC SEW frequency gear motor, controlled by limit switch. We shall not cut half or non-complete width of plate. The cutters will remove the metal scrap continually. The metal will not break by self.

2. Characters:
The SVG V GROOVING machine is used as the driving element of the precision ball screw, which has high machining precision and is particularly important to the high-end products. Such structures are used in foreign equipment.
The machine is controlled by two axis NC, Y-axis (back gauge to feed sheet and positioning horizontally), Z-axis (V cutter vertical position) servo control. X-axis is driven by SEW gear motor. After parameter input, machine can run automatically.
The cutter frame transmission screw adopts multi head thread structure and guide system with high precision machining. The power transmission is stable and reliable.
The tool slide way is cast iron material, wear-resistant and repairable, and the service life is guaranteed for more than ten years.
The plate clamping system is with pneumatic, including holding feet along X-axis and back gauge clamps. The holding force is enough and stable. The noise is lower.
The Y-axis is equipped with double thread ball screw, with high moving speed and accurate positioning
CNC controller program design is reasonable and easy to master. As long as the processing parameters are input, the equipment will automatically run and process. And there are a number of chain security measures to ensure the safe operation of the equipment.
Import or domestic famous brand products are used in all the important parts, such as CNC screen, PLC, servo motor, motor reducer, linear guide, ball screw rod and other important parts.
main structure parts are all tempered to eliminate residual stress treatment, so that the equipment can guarantee the long-term processing precision.
---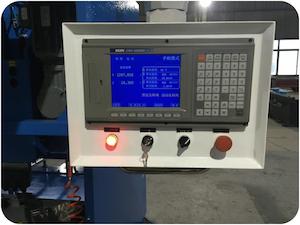 Taiwan HUST CNC H6D controller
Z axis, servo motor
Y axis, V grooving position
with Manual /Automatic  mode
---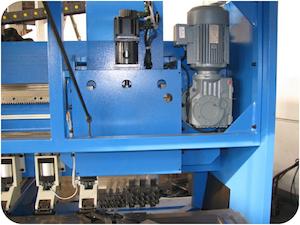 Germany brand SEW AC gear motor
High cutting force for X axis
Z axis with Delta servo motor
Cutter frame is cast steel, stable and Wear resistance
---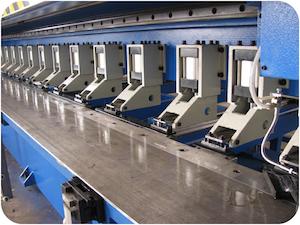 Full V Grooving length is with pneumatic holding press. It will guarantee V cutting position accuracy and V depth accuracy. it is good for thin and thicker plate V cutting.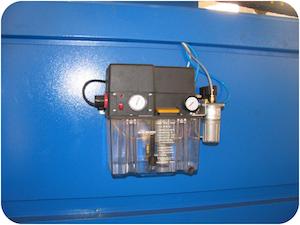 ---
for metal sheet like AL, the metal sheet is soft, during cutting, the scrape metal will stick on the cutter. We shall apply spray cooling to avoid this problem happen. for high speed V groove cutting, cooling also can prevent cutter.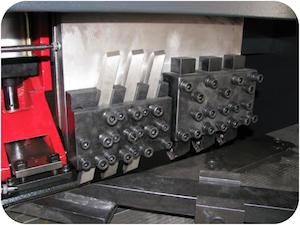 ---
SVG model v grooving machine can install max 6 pcs cutters, 3pcs high speed steel cutter is suitable for various material and different V angle cutting. cutter can be ground to reuse.  3 pcs alloy cutter is suitable for stainless steel plate V cutting. each cutter has 8 cutting edges.
---